1ML FULL CERAMIC LOCKING TIP GLASS CARTRIDGE, BASE AND TIP (QTY 100)
$472.00
Note: This is a vape base only and does not include a tip.
Ask us how we can help grow your business with wholesale pricing and full customization options, including packaging!
If you're looking for the best cartridge base on the market today, the one used by all of the top brands, this is it.  This base has been designed and manufactured by Royal Supply using the highest quality raw materials and quality control procedures to ensure a consistent and reliable product. Edit Edit date and time
The Royal Supply Ceramic Core Glass Cartridge Base is going to produce great tasting and consistent clouds for a longer period of time. The most important part of any cartridge is the base, which is why we have spent so much effort developing the best result possible.
Weight
1 lbs
Specifications:

• Tank Size: 1.0 mL
• 510 thread – Compatible with all 510 thread batteries
• Low resistance: 1.8 ohms

Style

Ceramic Core Glass Cartridge Base Only

Size

1.0 mL

Material

Lead Free Brass

Aperture Hole

2.00mm x 4
Vape Cartridge
Frequently Asked Questions
Does Royal Supply sell directly to consumers?
Yes, absolutely! Royal Supply primarily provides fully custom vaporizer hardware directly to brands in the cannabis industry, however we also provide an easy access point for consumers to get involved as well.
How can I tell if my vape battery, cartridge, or disposable was manufactured by Royal Supply?
All Royal Supply vaporizer cartridges will have a serial number on the bottom indicating the batch number. Also, all Royal Supply vape batteries are branded with the Royal Supply logo etched on the bottom. If you have any questions about the authenticity of a product, please don't hesitate to reach out.
Can I customize this vape cartridge, battery, or disposable and use it for my brand?
Yes, you can! For smaller quantities, you can check out directly on our website using this link here. If you are looking for larger quantities, contact us directly by filling out the contact form or calling in.
Can Royal Supply vape cartridges be refilled and reused?
No, absolutely not. Royal Supply vape cartridges are designed for single use only. Please properly dispose of your cartridge when it's done.
Can Royal Supply vape cartridges be used with vape tobacco or other e-liquids?
Royal Supply vape cartridges were designed to be used specifically for cannabis oil. We do not recommend the use of these vape cartridges for any other form of liquid or oil.
Can Royal Supply vape cartridges be customized to be used with different oil viscosities?
Yes, we have the ability to manufacture different intake holes to the atomizer, depending on the viscosity of the oil.
Where is Royal Supply located and where are these vapes shipped from?
Royal Supply is based out of San Francisco, California, but we have a dispersed physical presence across the United States. Our warehouse is located in Northern California, which is where our vaporizer hardware is stored and shipped from. All of our stock vaporizer products are shipped from our California warehouse.
What types of vape hardware does Royal Supply offer?
Royal Supply manufactures vaporizer cartridges, batteries, and disposables.
Does Royal Supply make oil?
Royal Supply does not manufacture or sell any oil of any form. Royal Supply in no way touches any oil, whether by filling or selling, we only provide the hardware.
Does Royal Supply provide any automated filling machines?
Royal Supply does not manufacture or sell any automated filling equipment, but one of our Vape Specialists can recommend options that work well for our cartridges.
Does Royal Supply provide certified child-resistant packaging?
Royal Supply has a number of certified child-resistant packaging options for vaporizer cartridges. We can fully customize these options to provide compliant packaging for your vaporizers as well.
How does Royal Supply select the material used in our vaporizer hardware?
Royal Supply spends an extensive amount of time sourcing the highest quality materials to be sure we're using the safest material possible in compliance with all heavy metal testing requirements. Royal Supply stays up to date with the latest regulations related to material testing and requirements.
What is the quality control process like?
Royal Supply employs a comprehensive quality control process for all of our manufactured products and raw materials. All incoming raw materials are intensely inspected to ensure that they meet our standards before being sent to production. Next, we perform a number of quality checks along the assembly line to ensure a consistent quality throughout. After the product has been fully assembled, our team does a final inspection and cleaning along with final quality control checks.
Does Royal Supply manufacture its own vape hardware?
Yes, Royal Supply develops and manufactures all of our own vaporizer hardware products. We have a team of material scientists, engineers, and designers to continuously work on improving our hardware.
Does Royal Supply test for heavy metals in our material?
Yes, Royal Supply tests all of our raw materials to ensure we are compliant with heavy metal requirements. We also have the ability to use different metals, like pure stainless steel, to achieve higher standards if needed.
Do Royal Supply vape products have any safety features?
Royal Supply vape batteries have short circuit protection and automatic shut off to prevent overheating.
Does Royal Supply have any ongoing research and development?
Royal Supply is continuously working to improve on our products and bring innovative ideas to move the market forward. We have a team of engineers, material scientists, and designers to work on developing the next generation of vaporizer technology.
1.0 mL Royal Supply Ceramic Core Glass Cartridge Base
| | |
| --- | --- |
| Style | Ceramic Core Glass Cartridge Base Only |
| Size | 1.0 mL |
| Material | Lead Free Brass |
| Aperture Hole | 2.00mm x 4 |
| Thread | 510 |
| Resistance | 1.8 ohms |
Compatible Mouthpieces
Bases can be combined with any of our most popular vape tips. Browse our selection below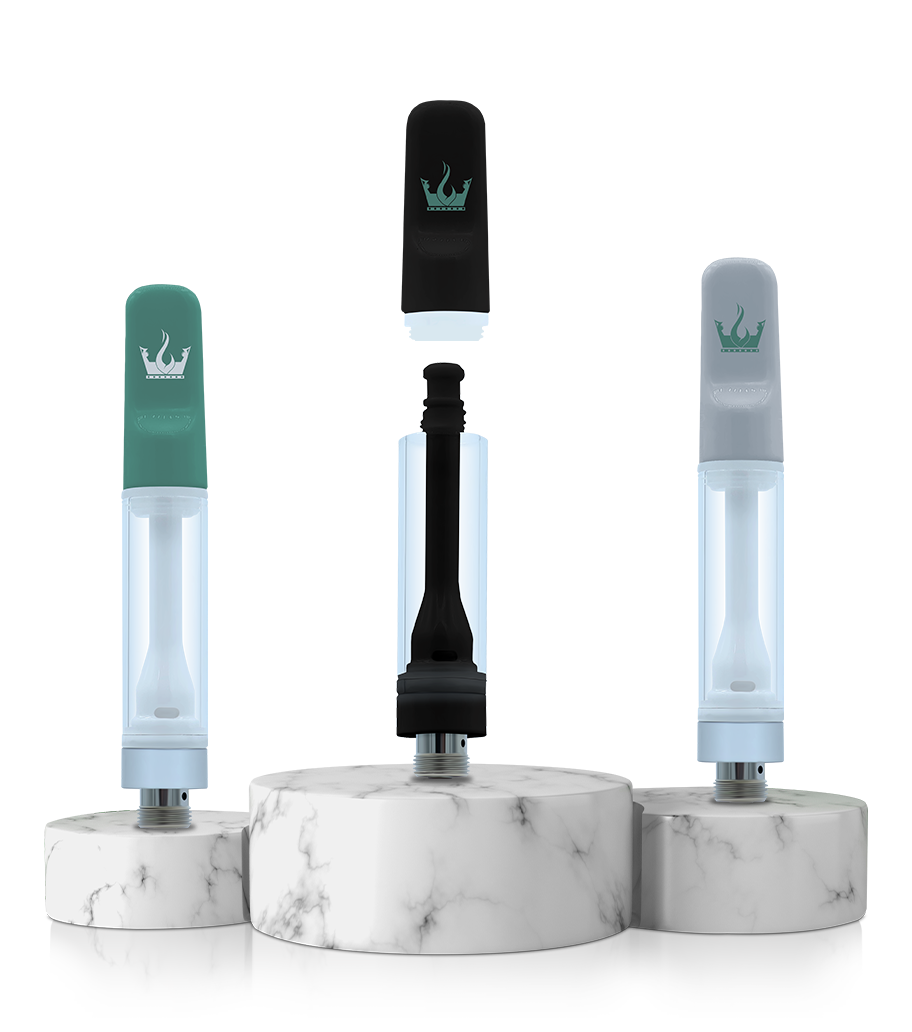 Custom Vape Cartridges
Get in the game with a look you've always wanted.
Fully customizable vape cartridges are more accessible than ever.
Extensive customization options
Low minimums
Professional quality guaranteed
Get Started
Need Child-Resistant Vape
Packaging Too?
In some states, Child Resistant packaging is required. Don't let that requirement prevent you from having great looking packaging. You still have options! We have a number of different Certified Child-Resistant options and our team will work with you to figure out the best solution for your brand.