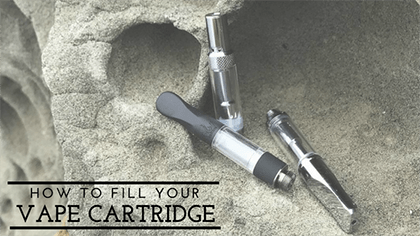 HOW TO FILL YOUR VAPE CARTRIDGE
Have you ever wonder how your could easily refill your vape cartridge without damaging or ruining it? Worry no more because this guide will explain the step by step procedure on how to properly do it.
1. Unscrew the mouth piece.
This is a gasket on the inside that presses against the cartridge. You will see a thread inside that helps keeps this gasket in place and preventing it from any leakage. After about 3 full turns counter clockwise, the thread should be free from the threads in pole in the middle, however, it will still seem in place.
2.Unscrew the mouthpiece from the cartridge.
Once it's off, make sure to place the mouth piece somewhere safe so you don't lose it.
3. Fill the cartridge with the oil of your choice.
Leave a little space at the top so as to not overflow the oil when screwing the mouthpiece back on.
4. Screw the mouthpiece back onto the cartridge.
Turn the mouth piece clockwise and after about 3.5 turns you'll notice that it's getting firm.